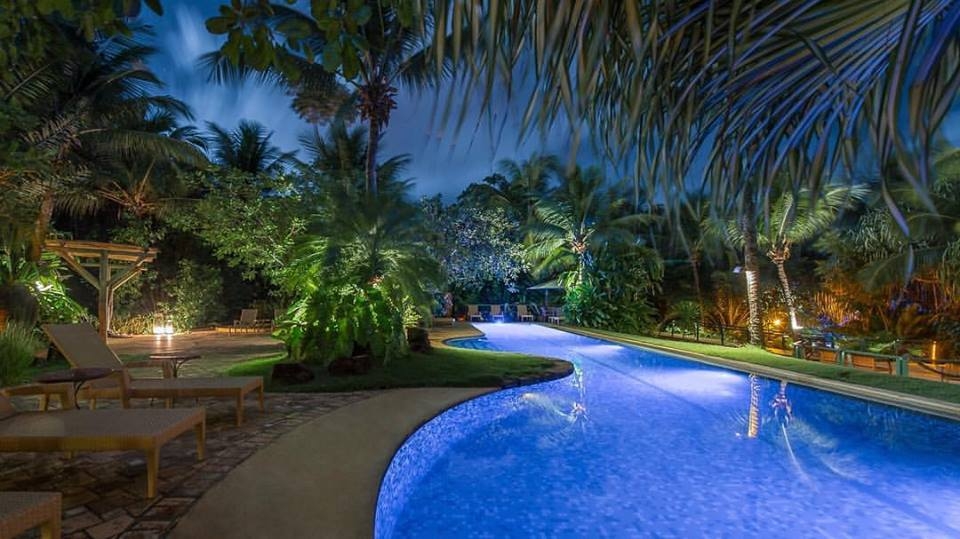 Toca da Coruja
Pleasant refuge that combines refinement and charm for those who want tranquility on the edge of one of the most beautiful beaches in the Atlantic.
The Toca da Coruja hotel belongs to the "Roteiros de Charme", an association that gathers hotels and inns that are selected for having charm, quality services, good facilities, and mainly, means of lodging that assume the commitment to preserve the environment, that is, to serve well with maximum attention to meet the needs of the guests, without compromising the future of the next generations.
In addition to being part of the Condé Nast Johansens label, a trusted editor (editor of magazines such as Vogue, GQ, Traveler and Glamor) that has among its approaches to be a reference guide and expert travelers who are in the search of hotels of charm and luxury around the world. Located on one of the most beautiful Brazilian beaches, Playa de Pipa, in Tibau do Sul - Rio Grande do Norte, a fairly well-preserved old fishing village that became a popular destination for those who like to alternate rest with agitation. The inn is built in an area surrounded by 25 thousand square meters of very well maintained gardens, with trees and natural plants of the region.
While staying in Toca da Coruja, you can hire buggy, boat or bicycle rides to unveil the wonders of the region, or also go surfing and kitesurfing. But if the sport is not exactly your travel style, Toca da Coruja has two ionized swimming pools - one of them with hydromassage - with bar service to cool off while enjoying the sun having a delicious drink. A few meters from the beach, you can swim in the sea next to the dolphins.
We also have a functional studio, sauna, reading and games room, video library with more than 1,000 movie titles, local with the crafts that decorate the inn, restaurant (Oca Toca Restaurant), heated cellar, Beach Bar and massage services - Toca da Coruja Spa by L'Occitane.
For those who like to alternate rest and nightlife, the inn is also strategically located on the main street: near the best restaurants, bars, shops and nightclubs. And, when you want to get rid of the noise, simply return to the Toca da Coruja, take a sauna or simply lie in a hammock and contemplate the green, saguis monkeys and varied birds that usually live on the property.
SUSTAINABILITY
Toca Da Coruja is proud to have always promoted, a program based on sustainable practices that respect and protect not only the Environment, but also the human being. Considering the importance of cultural diversity, the inn was created with the purpose of promoting local culture.
This concept goes from the architecture and decoration of the bungalows (which refer to the architecture of colonial haciendas) to the labor used in the inn.
Some of the actions taken by Toca da Coruja are:
Program that acts on energy efficiency (use of presence sensors, economic lamps, automatic buoys and preventive maintenance)
Water conservation (use of toilets with attached box)
Water and energy economy awareness campaigns with collaborators and guests
Waste treatments (compost, waste recycling, among others) that are used in the garden and in the gardens of the inn
Support to the local community (encouragement and concentration of local collaborators, youth training - first job, Environmental Education program, participation in the NGO-NEP - Pipa Ecological Nucleus)
Valorization of local and regional culture and architecture
Partnership with local suppliers and producers
Preservation of local fauna and flora

BUNGALOWS
The colonial style of the bungalows, with specially selected pieces, gives the space an atmosphere that mixes sophistication, authenticity and comfort. There are 12 Luxury Bungalows - with 130 m2 - in all of them, you will have available hot tubs in the outdoor solarium and just call the butler that he will go to prepare a relaxing bath. The inn also has 16 Special Bungalows - with 60 m2 - cozy to spend pleasant and romantic days - also with hot tub (internal).
Special Bungalow
Surrounded by a lush tropical garden, the Special Bungalows squander charm and romanticism. With 60 m2 of area, each bungalow has a king size bed, Egyptian cotton sheets and goose down pillows, split air conditioning, ceiling fan, whirlpool bathtub, LCD TV, SKY HDTV, DVD, Wi-Fi internet, Frigobar and chest.
Luxury Bungalow
Built on palafitos, the Luxury Bungalows have an area of ​​130 m2 each. They are inspired by the old colonial farms of the region, decorated with specially selected pieces, which gives a space to the environment that mixes sophistication, elegance and a lot of romanticism. In addition to having a super king size bed, Egyptian cotton sheets and goose down pillows, split air conditioning, ceiling fan, LCD TV, SKY HDTV, DVD, Wi-Fi internet, minibar and chest, the Luxury Bungalow has Private outdoor area with an outdoor hot tub and private solarium.
SPA
Toca da Coruja and the L'Occitane invite you to visit its SPA, a space that provides a true sensory journey, with special treatments that lead to well-being, relaxation and balance to the body and mind. The space combines the harmony of the lush local nature with natural ingredients, technology and traditional therapies.

SWIMMING POOLS
We have two ionized pools, a semi-Olympic (25 meters) for swimming and hydromassage. The inn is built in an area surrounded by 25 thousand m2 of very well maintained gardens, with trees and natural plants of the region.
SERVICES AND AMENITIES
*Wi-fi Courtesy
*Free parking
*Beach club
*Restaurant
*Functional Study
*Accessibility
*24 hour reception
*Library
*SPA
*Transfer Service
---
Location
---
Toca da Coruja en Facebook
Toca da Coruja en Instagram
Pipa Beach Brazil Hotel
Some special places to stay in Pipa Beach