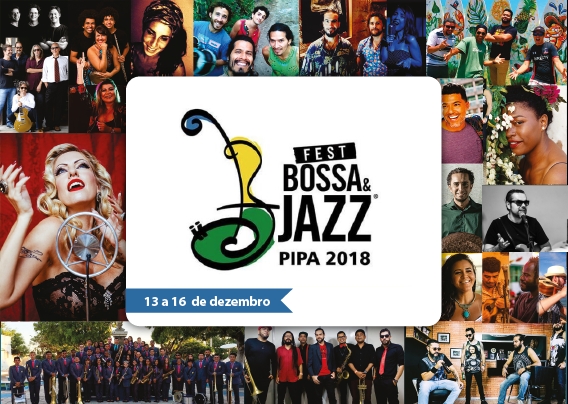 Fest Bossa & Jazz 2018 in Pipa Beach
From December 13 to 16, the best music festival of the year will take place in Pipa, with 17 invited artists and 48 presentations. The program includes shows during the day at the beach and at night, as well as workshops, workshops and Jam Sessions.
Fest Bossa & Jazz had its first edition in Natal / RN in 2010 and the following year landed in Praia da Pipa in a small version in Praça do Pescador. Its success was so great and continuous that in 2015 it became a circuit arriving in São Miguel do Gostoso and Mossoró, and was consecrated as one of the most important cultural events of the state of Rio Grande do Norte and a national reference as one of the great music festivals in Brazil.
This festival is totally free and has as main objective to promote the exchange between consecrated names and new exponents of music, strengthening Bossa Nova, Jazz and Blues. In this edition, among the invited artists are: Taryn Szpilman, Chorinho da Pipa, Philharmonic Monsenhor Honório, Duo Maresias, Sâmela Ramos, Nida Lira, Ethnic Blues, Parahyba Ska Jazz Foundation, Soares Soares & Os Grooves, Mobydick, Pri Dené & Tricomas Jazz Band, Dayanne Nunes, Di Stéffano, Bruna Hetzel & Macaxeira Jazz, Tárcio Cardo, Pádua Family and Los Chaskys.
Different from previous years, the Fest Bossa & Jazz 2018 will have several spaces spread out along the streets and beaches of Pipa. During the day workshops, workshops and shows in establishments in Praia do Centro such as the Restaurant Casarão, Aventureiro, Barraca da Neide, Orla da Praia do Centro, Pipa Beach Club and Orishas.
For the nights, the Bossa & Jazz Street Band makes its usual procession by the main avenue at 7:30 pm and lovers of good music will be able to watch from 8:00 pm the pockets shows distributed by Baía dos Golfinhos Avenue, in the galleries Kanto da Pipa, Vila da Pipa Shopping, Oásis Gallery, Vila Mangueira, Fisherman's Square and Rua do Céu. And to close the evening programming in the style of Fest Bossa & Jazz, the expected Jam Sessions take place with the stage open for the musicians present at the venue.
The organization of the festival offers workshops on "Rhythm and Movement", "What is this jazz?", "Instrument building" and "Recycling with Art". Gaita Workshop with Flávio Guimarães, Talk Show with Taryn Szilpman and Master Class of Trumpet with Antonio de Padua.
You can access the complete schedule with all the details about the event at www.festbossajazz.com.br. The event is held by Juçara Figueiredo Produções, together with the Government of Rio Grande do Norte through SETUR, Emprotur and Governo Cidadão through resources from the World Bank. The edition counts on the sponsorship of Tibau do Sul City Hall, the Tibau do Sul and Pipa Hotel Association (ASHTEP), the Pipa Convention Bureau and the support of local merchants.
If you need information to get to Pipa, or an airport transfer, you may also need some hotel and ideas to do during the weekend! Everything you need in just one click! www.Vivepipa.com
---
Photo GalleryClick to zoom