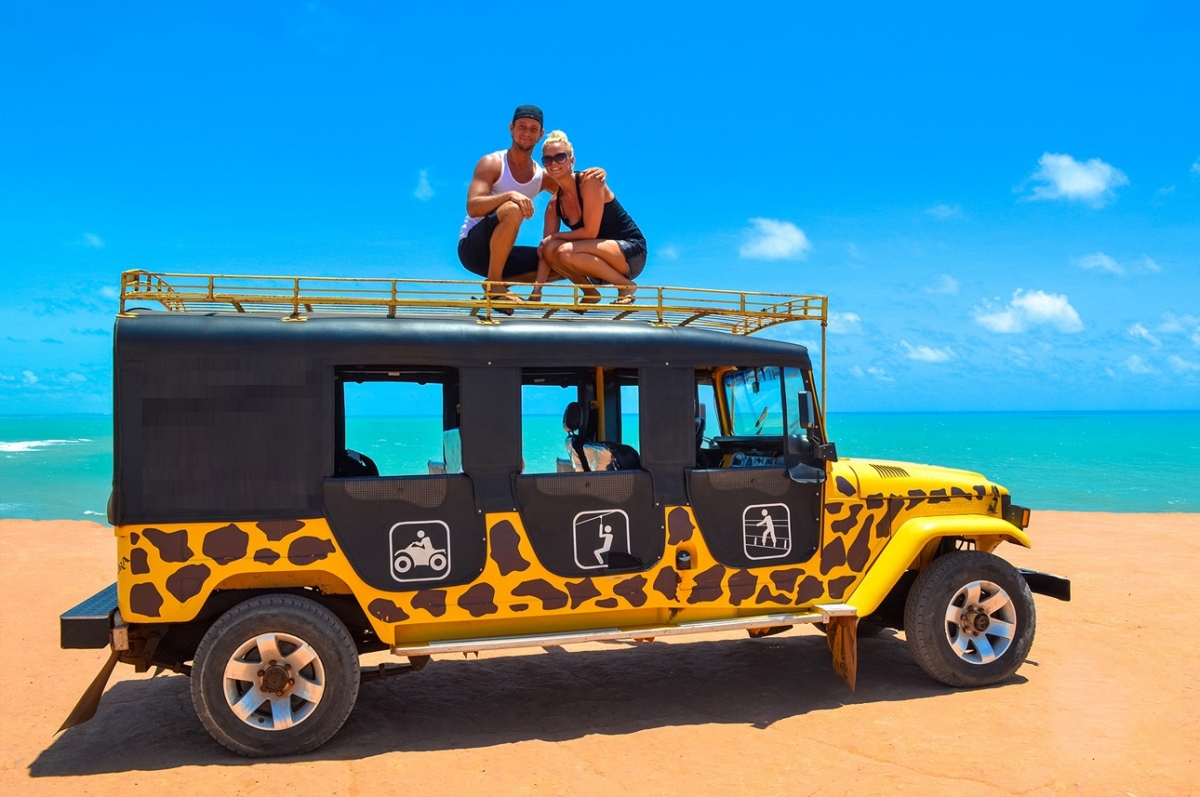 Tours in Pipa
Find out more about the many tours in Pipa! Adventure, fun, nature, no matter what you are looking for, there are several options available to anyone visiting Praia da Pipa.
Boat, bike, horse, free flight, hiking, trails, quad biking, buggy, 4x4, canopy, kayak and motorboat are just some examples of what you will find by Pipa. There are those shorter, with an average duration of two hours and those that can last much of the day.
For those looking for adventure
For people who are looking for adventure on Pipa beach, there are several options that pass through land, water and air.
Surfing, Kite Surfing, Free Flying, Stand Up Paddle, Bike, 4x4, Paragliding, quadricycles, Buggy, Dinghy, Kayak, Canopy, you can choose what or what you like to do. Some of them take you to places that would hardly get there without them, such as the boat trip on the Lagoa de Guaraíras, or those that take you to dive in the warm waters of the Pipa sea. And what about the view when seen through a free flight?
Gastronomic Tours
There are also gastronomic tours in Pipa, one of them for example, takes you to a shrimp farm where, in addition to delighting in your restaurant, you can practice sports activities, kayaking, archery, slackline, hiking and taking a delicious river bath. Another option is boat trips that offer a meal on the high seas so that tourists enjoy all day at sea and can delight with fresh fish.
Contact with nature
Practically all tours make you come into contact with nature, because just being in Pipa makes this contact happen. However there are those specialized so that visitors can enjoy the beaches, Atlantic forest, flora, fauna, sea and all the natural beauty of Pipa. Family Trips If you are going to enjoy a family trip in Praia da Pipa, you can choose a tour where everyone has fun. Several adventure tours for example, offer more "quiet" versions, ideal for those who travel with children.
As you can see, there are options for all tastes, styles and ages. There are those that last a few hours and are ideal for those who will spend only one day in Pipa and others that last practically all day. If you spend a day in Pipa, see the tour options by clicking here. Or, if you prefer, check out our itinerary options for family or couples, to enjoy during the weekend or up to 10 days.
---
Photo GalleryClick to zoom