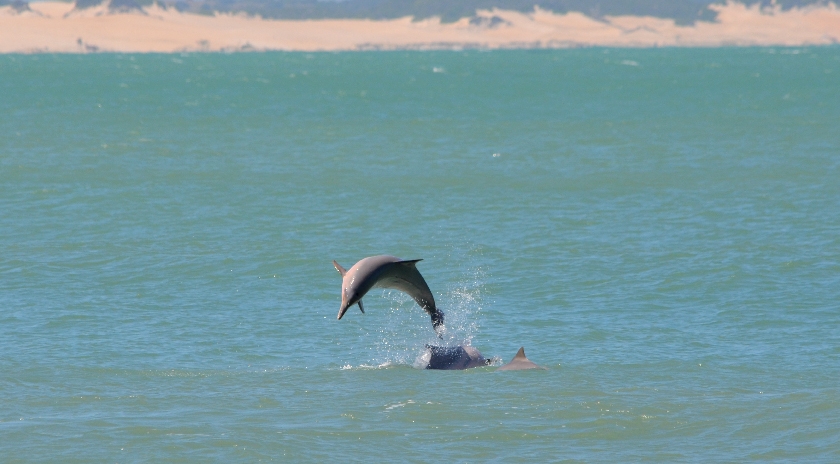 Baía dos Golfinhos Beach voted among the 10 best beaches in the world!
The award is based on the users' experience in 2020, through reviews on TripAdvisor.
This year, two Brazilian beaches were included in the ranking of the best beaches in the world, Baía dos Golfinhos, at Praia da Pipa, Tibau do Sul (RN) and Praia do Sancho, located in Fernando de Noronha (PE).
Since 2002, the Travelers' Choice award granted by TripAdvisor recognizes "the best of the best" in service, quality and customer satisfaction based on the evaluations of millions of members of the portal. The award highlights not only popular choices, but true travelers' experiences.
Baia dos Golfinhos Beach is really amazing! Very famous for its impeccable nature, calm waters and mainly for the facility in giving prestige to the dolphin show in its natural habitat. It is the only beach around here that can only be accessed in the dry tide and walking along the sand, when the tide rises, the waves reach the base of the cliffs and make it difficult or, at certain times of the year, make it impossible to reach or leave it.
Praia do Curral, as it was known in the past, was where the natives and fishermen who practiced fishing in corrals. A "corridor" through which the high tide passes, taking the fish that end up being stuck on rods attached to the bottom near the beach. And at low tide, fishermen collected their fish. In the mid-1990s, for environmental reasons, fishing in corrals was extinguished. Even today it is possible to see the marking of the stakes, remnants of that time, along the beach.
The calm waters of Baía dos Golfinhos are an invitation to bathe. A kayak tour or stand up. On the long strip of sand it is possible to walk, play beach tennis, paddleball or football. There are plenty of reasons to enjoy the beach!
Do not forget, attention to the tide time, you can consult on the App Vive Pipa or on our website.
---
Photo GalleryClick to zoom