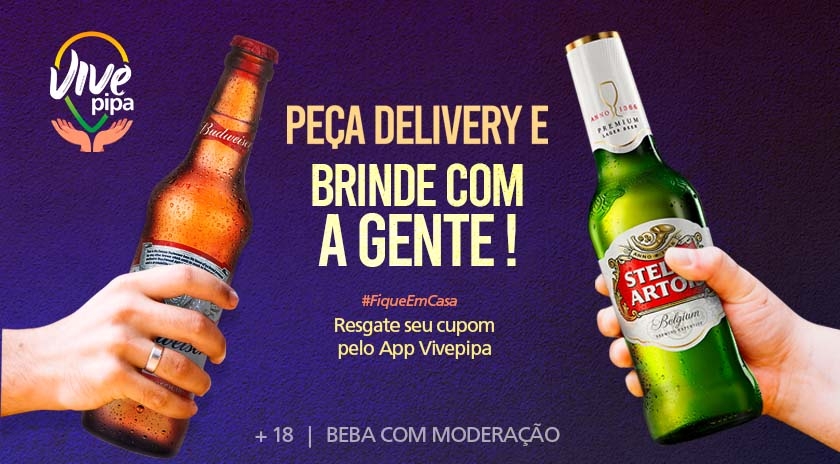 Campaign: ask for delivery and toast with us!
In times of #stayathome, many restaurants closed their doors and many others had to adapt to continue working.
In order to stimulate deliverys and provide benefits to the users of the VivePipa App, we partnered with AMBEV, Stella Artois and Budweiser, to present long necks on their home food orders.
It is very easy to win:

1. Access the VivePipa App
2. Enter COUPONS
3. Choose your order
4. Redeem the coupon
5. Contact the restaurant
6. Enter the coupon code
7. Place your order
Now just wait for your order to arrive with the free beer!
We love Pipa and we sincerely wish everyone is well and at home, soon all this will happen!
Download the free app for Android and IOS at the link: http://onelink.to/p2y7vj
See the list of associated establishments:
Calígula Pizzaria e Restaurante:

one of the pioneers of Pipa gastronomy, the traditional pizzeria also offers international cuisine options.

To win a Stella Artois, ask for any pizza flavor.

Kausai Cevichería

: It is a restaurant of Peruvian cuisine, which has ceviches as its flagship, very tasty and loaded with varied textures and many colors.

To win a Stella Artois, order any item on the menu.

MP Restaurant:

located in Tibau do Sul, it has a super varied menu for all tastes. He was highlighted in his 6 participations in the Pipa Gastronomic Festival being champions 4 times.

To win a Budweiser, order a Bauru Burger.

Nobre Hamburgueria Artesanal:

offers grilled burgers with that grill flavor, sauces and homemade breads.

To win a Budweiser, order a "Queridinho" burger.

Oba Yakisoba:

It serves Japanese delicacies such as tofu and shiitake, but the main one is the typical dish of Japanese cuisine that gives the restaurant its name.

To win a Stella Artois, order a yakisoba of any flavor.

Orishas:

It has one of the best sunset views of Pipa and a wide and varied menu for its clients.

To win a Budweiser, order a meat or veggie burger.

Quintal Restaurant:

typical Brazilian foods and Northeast flavors. Wednesdays and Saturdays they offer feijoada. It currently serves only during lunch hours.

To win a Stella Artois, order a 700g dish from the menu of the week.

Sabor da Pipa:

Offers healthy food and vegetarian / vegan options, such as pizzas and meals.

To win a Stella Artois, order a pizza of any flavor.
Care when receiving delivery at home in times of covid-19
1. Wear a mask and keep a distance from the delivery person when you receive your order
2. Wash your hands well immediately
3. Remove the packaging on a surface where you will not eat, wash your hands well, take the food packaging to the place where you will eat, also previously disinfected with alcohol.
4. Wash your hands again and get a good appetite!
Enjoy free beer, it's a present from us for you!
#VivePipaSolidary
---
Photo GalleryClick to zoom