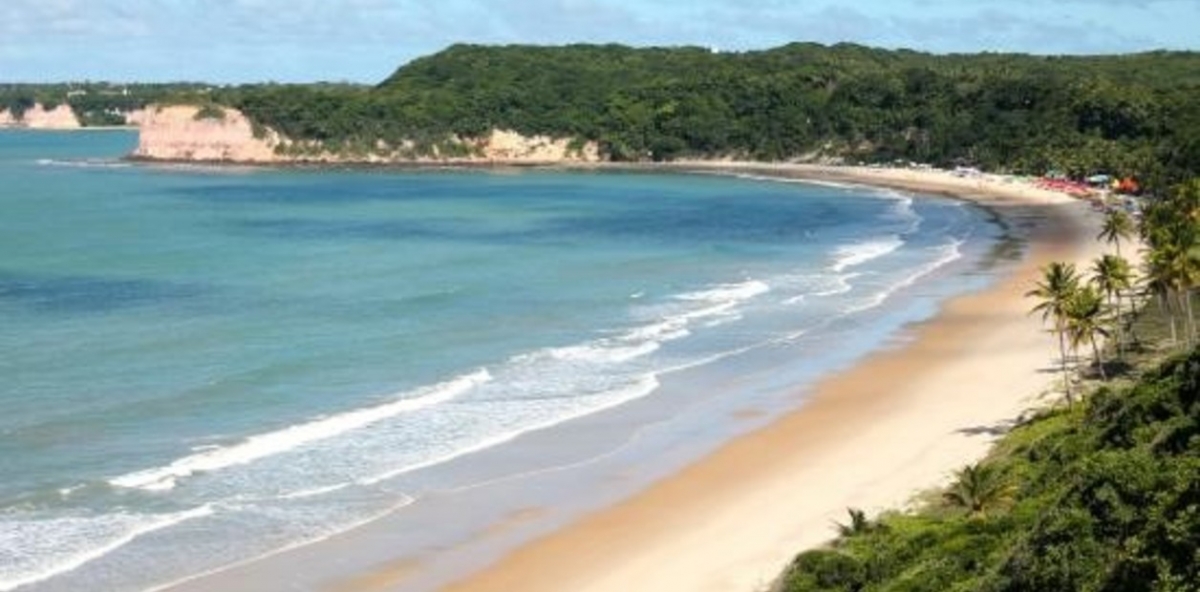 The day in Pipa
The day in Pipa can be very hectic or extremely relaxing, you choose how you want to enjoy this beach considered one of the most beautiful in all of Brazil.
Located in the municipality of Tibau do Sul, near Natal the capital of Rio Grande do Norte, Pipa offers innumerable options of walks, beaches, lodging and restaurants. You can know all that better by browsing our site.
If you are planning to spend the day in Pipa, you can have fun among the adventure trips, relax in the middle of tropical nature, on its practically deserted beaches or on beaches with all the infrastructure to enjoy the leisure, take the opportunity to take surf lessons, walk kayak, stand up paddle, enjoy the various dining options, enjoy the local bustle among many other things.
Beaches of Pipa
For those who want to enjoy the beaches, there are options for various styles and tastes, you can find out more by clicking here.

. Amor Beach
With natural pools, the Amor beach is one of the most popular in Pipa and very popular with surfers due to its radical waves.
It has an excellent infrastructure and is ideal for those looking for a well-frequented place.
It seeks to relax in nature, swimming along with its natural habitat in a calm sea, this is one of the best options.
As an extensive border, this praise is very frequent for people who want to practice aquatic sports and even have schools for people who want to learn how to surf and locals that equip equipment for the practice of aquatic sports.
Fenced pela Atlântica matte, perfect for tanning natureza com all infraestrutura necessária to relax with all comfort.
On the other side of Praia do Amor, this is a praia quase deserta perfeita to relax and drink a sea bath. At Praia das Minas também, where there are many children of Tartaruga Marinha.
É praia de Tibau do Sul, quiet and ideal for a sea banho. Com pools naturais and infraestrutura to receber os tourists.
Located not center da cidade, possui waters calm ideal to take a sea banho. Because it is located in the center of Pipa, it is easy to access and posses several options for kiosks and restaurants, although it is a place that, especially during such high seasons, seems to be quite hectic.
By não it is a question of a muito praying frequently visited hairs, it treats itself of a local muito preserved e quase that intocável em um natural maravilhoso.
You will be able to tan or day in Pipa and want to rest in nature, you will be able to cure a boat or buggy passeio até Barra de Cunhaú, located in the city of Canguiretama. The ideal place to relax, go for a walk or take a beach in the desert.
Try to be a paradisiac place that muitas pessoas também frequentam para praticar kitesurf.
Passeios de um dia em Pipa
You want to grow a passeio em seu dia em Pipa, you've got options, including some that lasted about three hours, with plenty of time to relax or to tan ainda mais Pipa.
There are passeios of Toyota Bandeirantes 4x4 that takes you to conhecer all you arredores desta vila, passeios of quadrics, boats, bicycle, between outros. Conheça os passeios clicking here.
You can also take advantage to conhecer or Santuário Ecológico de Pipa, a place destined to preservação da mata atlântica com várias opções de trilhas. You can know more by clicking here.
Não perca or pôr do sol em Pipa, a show of imperfect nature. Você pode curtí-onde quiser that sight will be beautiful, but it will be something more special, will be able to go to Lagoa Guaraíras to assist na areia, to beira do sea ou na creperia that became a point and gathers several visitors who want to attend to this show, or go to Mirante Sunset Bar in Pipa, which has a privileged view and all comfort in a rustic decor.
You want to get a Roteiro idea for a day in Pipa, click here, and we suggest that we recommend VivePipa!
No fim do dia, não deixe Pipa sem provar uma das delícias da cidade. Pipa é um place com várias opções gastronômicas for all tastes, delicacies and bags
---
Photo GalleryClick to zoom