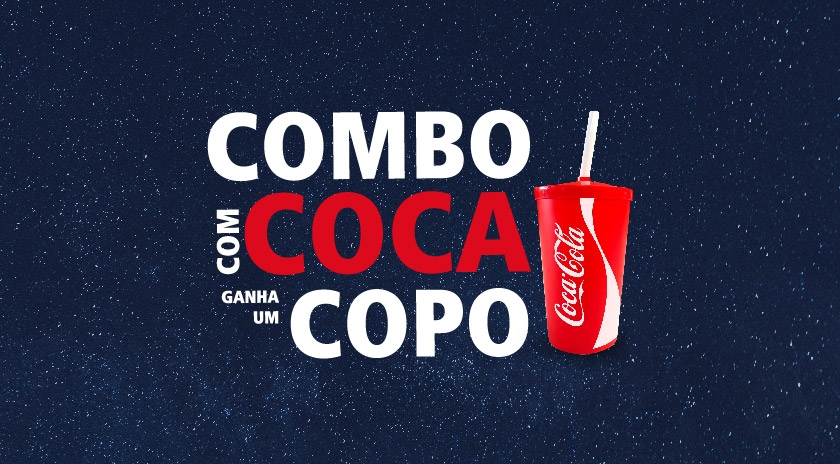 Combo + Coca = Glass Promotion
Fest Bossa & Jazz, Coca-Cola and Vive Pipa
Fest Bossa & Jazz is a music festival already renowned in the state and among lovers of mpb, jazz and soul music. For over 10 years we have been presented with shows by big names in Brazilian and international music, in addition to a super production with free entry.
This year the festival was able to happen, as it adapted to safety standards and adhered to the new format Drive in Show, with live transmission on the YouTube channel of Fest Bossa & Jazz.
Coca-Cola is the official sponsor of the event and VivePipa, is the official application of Praia da Pipa. So we came together to offer you exclusive combos at partner locations with distribution of Coca-Cola glasses, made especially for Fest Bossa & Jazz.
To redeem your coupon is very simple. Make sure you have already installed the Vive Pipa app on your phone. It's free for Android and IOS. If you already have, upgrade to the latest version of the app to enjoy all the benefits.
When downloading, give access to the app to manage calls from your mobile phone, only then it is possible to generate the coupons without error.
Access the CUPONS tab and browse the categories: sea view, eating and drinking, sandwiches and pizzas and at the hotel.
Choose the establishment or promotion you want, redeem the coupon and show it to the waiter.
In addition to enjoying delicious dishes and a refreshing Coca-Cola, you will win a glass to take home!
List of partner establishments Combo + Coca = Glass
Sea view:
Barraca Arco-iris (Tibau do Sul)
Barraca da Madalena (Tibau do Sul)
Barraca Delicioso - Canadense (Tibau do Sul)
Barraca Madeiro Drinks (Praia do Madeiro)
Casarão (Pipa)
Caxangá (Pipa)
Orishas (Pipa)
Pastelaria e Petiscaria da Pipa (Pipa)
Pip'a Restaurante (Pipa)
Pipe-se (Pipa)
Ponta do Barravento (Praia de Cacimbinhas)
Restaurante Aventureiro (Pipa)
Solar da Praia (Tibau do Sul)
Eating and drinking:
Aprecíe (Pipa)
Bargunça do Vicente (Pipa)
Birring in Paradise (Pipa)
Restaurante Boas Vindas (Pipa)
El Bodegon (Pipa)
Golfinho Bar (Pipa) (Pipa)
Kausai Cevicheria
Malu Resto (Pipa)
MP Resto Bar (Tibau do Sul)
Porca Vaca (Pipa)
Quintal Restaurante e Tapiocaria (Pipa)
Terramar (Pipa)
Tribus (Pipa)
Trio Resto Grill (Pipa)
Sandwiches and pizzas
Burg Beach (Pipa)
Calígula (Pipa)
Con'es (Pipa)
Dallitaliano (Pipa)
La Chiviteria (Pipa)
Sabor da Pipa (Pipa)
In the hotel
AcquaPipa Resort
Sombra e Água Fresca
Sunbay
---
Photo GalleryClick to zoom